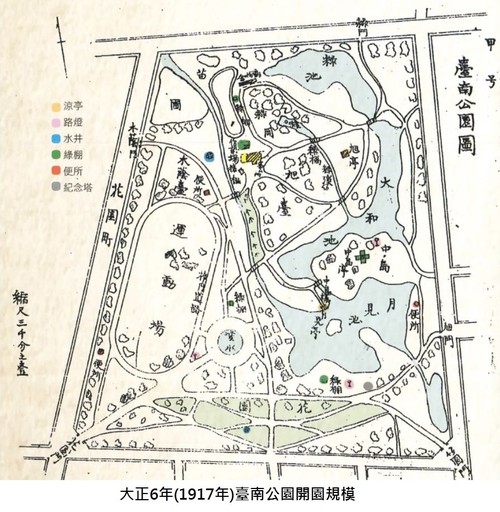 大正6年(1917年)臺南公園開園規模
Tainan Park was designated as a cultural landscape on Feb. 2, 2018 for preservation and supervision purposes. To carry out the preservation and supervision works, the Tainan Municipal Administration of Cultural Heritage has commissioned National Taipei University to conduct the Tainan Park Cultural Landscape Preservation Program and plan preservation strategies for Tainan Park.
The preservation plan set up different tiers of management and maintenance office levels, and the university team completed two public hearings to hear Tainan residents' suggestions concerning Tainan Park. The preservation and management plan separates the park into four categories: landscape areas, trails, architectures and facilities, and plants. Furthermore, each category has a corresponding management tier to help the managing authority, the Public Works Bureau, deal with a problem rapidly and accurately. The Public Works Bureau's response will in turn better preserve Tainan Park's cultural value.
Additionally, the preservation program used an open space design software in conjunction with historical documents to identify six historically significant trails for preservation. As for the park's vegetation, the team suggested keeping the current plants along the trails to maintain the established spatial relationship between the trails and vegetation. When the life cycle of the current plants ends, Tainan City can consider replacing dead plants with same type of vegetation originally planted when the park first opened during the Japanese colonial era.
The Tainan Municipal Administration of Cultural Heritage stated that, although Tainan Park is designated as a cultural landscape with a robust preservation and maintenance system, Tainan City must consider city residents' need for outdoor recreational spaces, and the park requires a management system that evolves with time. Tainan Park should be more than a historical park: it should continue its original function as a recreational park while it meets contemporary standards and becomes a public park with historical significance.